By: Becca Demski
LAKELAND– Thousands of frontline workers are protected thanks to the help of a Virginia couple that produces 3-D printed masks in the best social distancing way ever. From the comfort of their own home.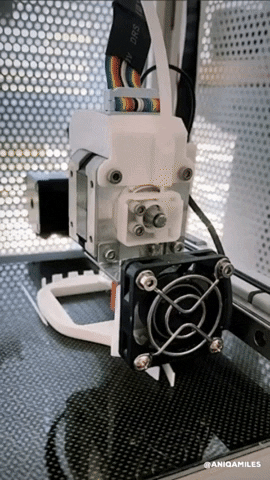 After seeing the N95 shortage affecting the nation's essential workers, Aniqa Miles and her husband James decided to create 3-D printed face masks and face shields to keep people safe during the COVID-19 outbreak.
Aniqa Miles, 29, first noticed the demand for personal protective equipment (PPE) while she scrolled on Instagram. A friend of Miles, who works in an ER, posted photos wearing a homemade cloth mask to protect herself from patients with COVID-19. Miles and her husband, who both have experience with 3-D printed medical materials, reached out immediately and offered to make a mask.
"She had been reusing the same mask for weeks," Miles said. "A mask that should normally be disposed of immediately after each patient. This was a problem. A very big one."
Miles also says that her initial inspiration came from the Montana Mask, a highly effective filtration mask, which can be sanitized and reused. The makers of the Montana Mask also provide a free 3-D print on their website for anyone to produce.
"We immediately hopped on the bandwagon," Miles said. "One N95 mask can be cut up into six pieces and placed into our 3-D printed masks as changeable filters. By doing this, it extends the life of what would have been only one singular mask."
According to the U.S. Department of Health and Human Services, a National Pulse Survey reported that the most significant challenge throughout the COVID-19 pandemic has been the lack of PPE in hospitals. The shortage has not only caused extended waits for test results but also limited hospitals' ability to keep track of the health of patients and staff.
After printing and sending out the first mask, Miles and her husband quickly gained momentum on social media.
"As soon as I posted an image of the mask, I was overwhelmed with messages from other friends and family members that needed masks too," Miles said. "The stories were just incredibly sad…I definitely felt a heavy burden to do something about this."
Since April, Miles and her husband have created and shipped over 1,300 masks. And the number is growing by the day. They also started a fundraiser, recruited more helpers and installed more printers, which will speed up the production process.
"It makes me very emotional, but there is no time for crying," Miles said. "We've got to help providers do their job safely. They can only save lives if they're healthy."
For more information on how to request PPE or donate to the cause, follow Aniqa Miles on Instagram and Facebook, or visit www.makethemasks.com.